In April of 2017, we hosted the Interrobang?!, a luncheon and appreciation event to recognize the amazing contributions of our volunteers across programs. Please look out for an invitation to the next Interrobang?! in early spring.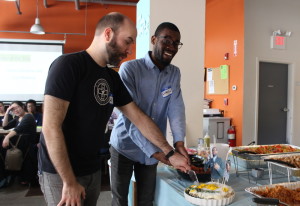 In October of 2017, we held our first volunteer murder-mystery party, titled "Mystery at the Movie House." Volunteers gathered to eat pizza, exonerate Bigfoot, and discover the real culprit. Keep an eye out for more fun volunteer events to come!
Below are a list of annual events that we are constantly recruiting volunteers for to help with logistics and planning. Please email volunteer@826boston.org for more information!
Jump to: Fundraisers | Book Release Parties | Programs

---
Fundraisers
Books for Breakfast (November)
Our fall fundraiser highlights new initiatives and features student MCs and a keynote speaker (this year, we invited author Walter Isaacson). Volunteers often help with registration and ushering, and are encouraged to register to attend if interested!
Volunteer Fundraiser (March)
We invite members of our volunteer community of nearly 2,000 to participate in an annual fundraiser to raise funds for our programs. This event is run by volunteers for volunteers. Past fundraisers include a Literary Heptathlon, Moustache-a-Thon, and a Write-a-Thon. This year, we are bringing back the Half-half-half-half-half (or .826) marathon.
Night of 1,000 Stories (May)
826 Boston's annual gala is Night of 1,000 Stories hosted by the Royal Sonesta in Cambridge. This is one of our biggest events and will showcase our accomplishments so far.
826 Day (August 26)
826 Day, 8/26, is celebrated across all chapters. In 2017, we honored the day by partnering with six local independent bookshops: Harvard Book Store, Trident Booksellers and Cafe, Brookline Booksmith, Wellesley Books, Papercuts JP, and Tres Gatos. Each location featured a special 826 Day display with a number of our newest (and not-so-new) titles and, of course, a plushie Bigfoot.
Book Release Parties
After-School Publications (January & June)
We publish 2-3 publications per year through our After-School Programs, collections of short stories written by students ages 6-18. Each book release party is also an awards ceremony called The Tandy Awards, where students win for "Best Opening Line" and other categories. We often need volunteers to help with logistics so please let us know if you want to help!
Young Authors' Book Projects (May/June)
We publish professional books through our Young Authors' Book Projects program. Our book projects this year include two cookbooks, a book of narrative essays, a book on food justice, and a book about history and social justice.
Programs
College Essay Bootcamp (October)
Every fall, we host a college essay writing event at Northeastern University for over 100 high school students. We recruit volunteers to serve on logistics and to serve as tutors. To read more about College Essay Boot Camp 2017, click here.
Boston Book Festival (October)
You can often find Bigfoot and our orange table at Copley Square, selling student publications and running a youth-writing activity. If you're interested in helping run the writing activity, please let us know! You can find more info here.